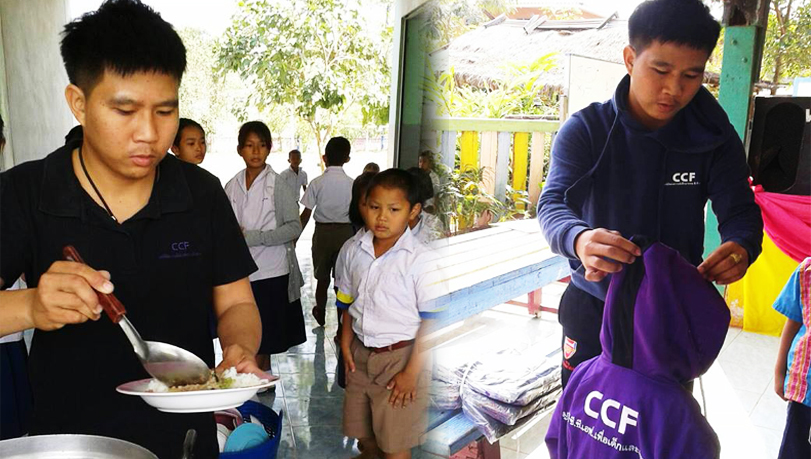 One afternoon, as I was at the office dealing with some paperwork, I could hear a roaring sound of motorcycle outside. It stopped me from doing what I was doing and looked at the unexpected visitor, a tough-looking lad wearing torn jeans and earrings. I could not help but automatically assumed he's here to either rob our office or start the quarrel. My mind started to play on this awkward situation, 'We have nothing worth the robbery here, only documents, pens, and paper'. Before I went too far with my imagination, that young man approached me with his soft tone of voice, "I would like to work with CCF as a volunteer and wonder if you want one".
Pik or Padungkiet Kamsaen, 23, a young man from Ban NaKae, NaYoong District, Udorn Thani. He is the third child in an indigent family. He finished Grade 12 and has not had opportunity to further his education due to some life obstacles; his parents could not afford to support him with the costs for higher education and the problem with failing love. At that point, Pik considered himself as a failure for he could not fulfill his parents' expectation on getting an academic degree. In other people's eyes, he was a menace who always caused troubles.
"In my high school time, my gang and I had been playing truant from school. I never missed the fights. Whenever my friends needed me on any fights over school rivals, I would be there. That was the time when I extremely clung to my friends." Pik shared with us about his teen time.
Pik grew up seeing his brother working for CCF until one day he happened to join his brother to a school as part of his brother's work. What struck him was the look of school teachers towards him. It was the look of doubt whether Pik would make bad impact on the young kids or not, or would he be able to change from the trouble maker to the nice and caring one. His image at that time was all negative.
"Since I was very young, I had always wondered what my brother was doing. It looked fun. He actively conducted activities for children in our community. I also wondered why many people sent some goodies to the kids here. And why there are many people joining in the group activities." Pik shared with us what was in his mind about CCF's work.
Until one day, he had had enough of the negative look he got from everyone including his parents, so he made decision to approach CCF for a volunteer job. He was worried that he might get rejected, he was wrong, the office manager said yes to his request.
"It has been good and I've experienced many changes in a better way since CCF gave me the opportunity to be part of them. It's really the great turning point of my life."
Now, Pik has proved to everyone that he can change. As a CCF volunteer, he has gained many working skills; action plans on working with people in the communities, public speech, and how to properly fit in among different types of people. This new role does boost Pik's confidence and self-worth. He can see how the teachers and other people look at him differently. Everyone accepts him as the representative of CCF's kind donors/supporters. It gives the young man a great sense of pride. Some people even come to him and ask for advice relating to the job he's doing, both younger ones and the grown-ups.
Nowadays, every time Pik closes his eyes and thinks about the past, he can only appreciate more and more of the opportunity CCF gave him, the opportunity to 'give'. More importantly, CCF gives him 'self-esteem' which he would never get anywhere else.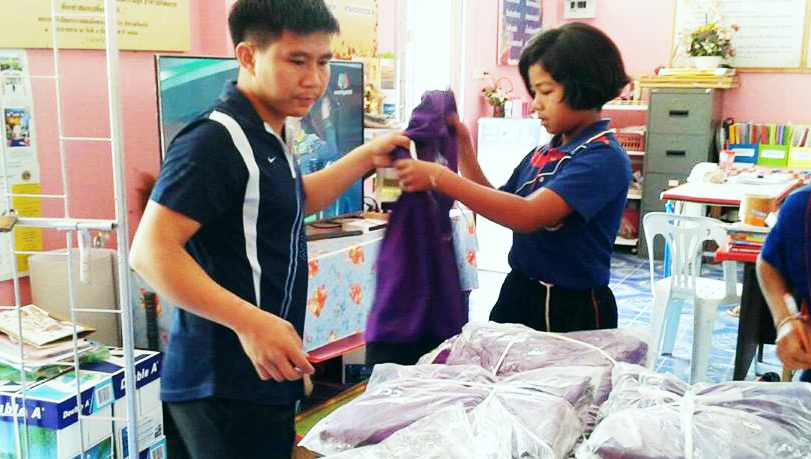 Pik was delivering donated jackets to school children, with great cooperation from the teachers
Paniwat Seehatab
Udon Children Development Center
1 August 2016