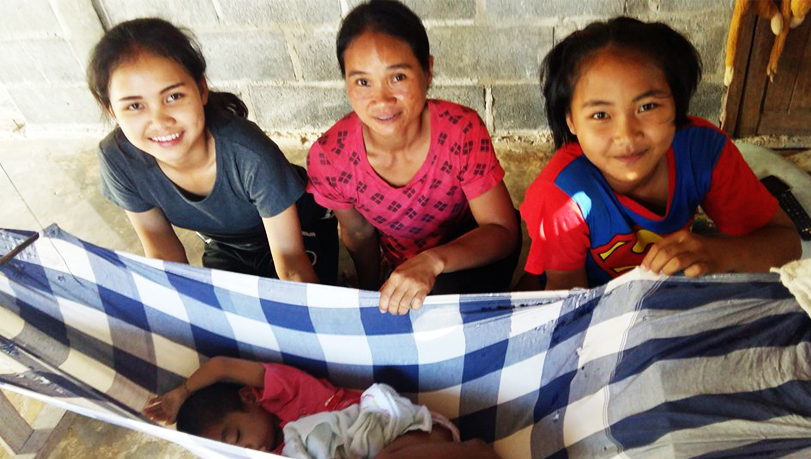 Every woman dreams about a perfect life; having a good job, a lovely family, along with great health and comfortable lifestyle, however, it seems unreal for many. Jurairat Attapong (Jurai), 36, is one of those who couldn't reach that picture perfect dream. She and her husband got divorced a couple years ago, he left her with their 3 children to look after while offering no financial support. Their first and second children are now studying in secondary school level, the youngest child was born unwell and needs special care 24 hours a day.
Jurai and her family live at the border of Thailand-Cambodia, not having the land of their own. Her main source of income comes from working as a laborer. On weekdays, Jurai looks after her youngest daughter at home. Then after school, her eldest child takes turn in taking care of the little one while Jurai and the second daughter both go to work at the tapioca field to earn some money for the family. Jurai and the girls also work over the weekends; they take any laboring jobs so they can get extra income for family essentials and to cover the youngest girl's medical expenses.
She is a great sample for her children for hard working. During school breaks, her eldest child would join her aunt working in Bangkok as a waitress in some food shops or doing clothes ironing service for little wages. The hard money she earned was for school uniforms and for adding concrete floor in front of their little house for her disabled sister as it would be best for her to practice walking on smooth surface. Before, the little one had to roll on the dirt floor.
The neighbors all admire this family for their survival spirit and the way they're such close-knit family. The admiration goes especially for Jurai's strength in raising 3 children on her own that she can do so well as the evidence shown on her kids' behaviors, they are all sweet, caring, and happy to share their mother's burden every way possible.
Despite all the hard work and tight routine Jurai has engaged with, she kindly dedicates her time to the work of CCF as a volunteer and she gives more than 100% on it.
"I really like being a volunteer. Discouraged? I admit I used to have that feeling for it's so easy to feel discouraged especially when people around you keep asking why I spend my time working for nothing. To me, I know what I get in return is not money but something priceless, something that is more important than money. I can say what I get in return is my little girl's better condition; she gets better every day and I consider that's a miracle. In the past, she was completely dependent physically and could not even sit up. Now she can sit. She can get up and walk while holding the rail. I believe it must have come from the result of all the good deeds I have committed in helping CCF do the invaluable work for needy children in our community." She talked to us with little happy tears in her eyes and beautiful smile on her face. Her face definitely wore a look of pure contentment.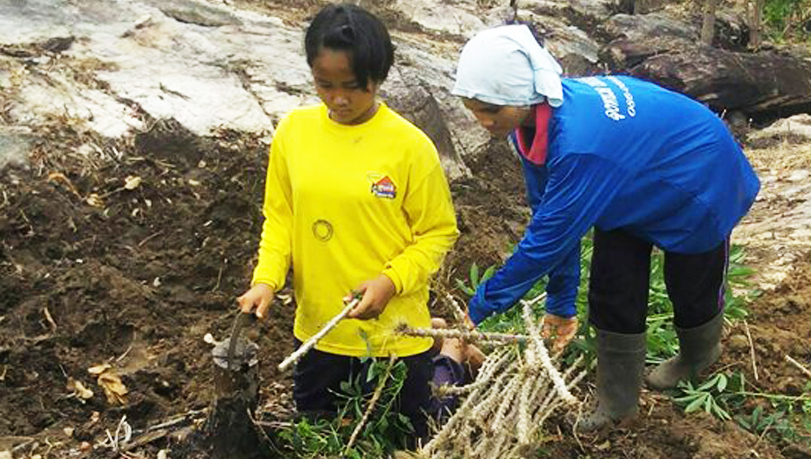 Jurai's second daughter spends her after-school time helping her mother in the tapioca field
Onnanong Kamlert
Sisaket Children Development Centers
1 August 2016