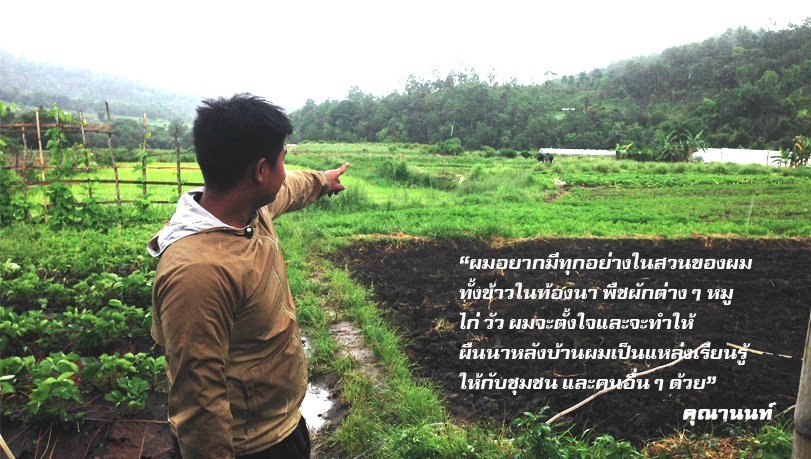 "I want to have the combination of many things on our plots of land; rice, vegetables, pigs, chickens, and cows. I would like to transform this rice field into a community learning center."
Speaking with his broken Thai, Kunanon, a hilltribe Karen boy with great passion shared with us of what's in his mind as we gave him a visit 3 years ago.
It's been over 3 years that Kunanon has participated in the Sufficiency Economy Youth Leader project. He had an opportunity to visit Maejo university to learn agriculture, in following our HM the King's wise idea on this field. He learned about animal husbandry, multiple cropping, mushroom farming, and bio fertilizer making. From that point, he was inspired to learn more about agriculture.
Despite having free time to work only on weekends, Kunanon gives his full effort in helping his family working in the field. After he received some plant varieties and animal breeds from CCF, he kicked start his little farming project straight away, with wonderful support from his family.
"Once he's back from the college, he would rush to the field even before coming inside the house", his father talked about Kunanon proudly.
The young man is now studying at Chiang Mai College of Agriculture and Technology, majoring in Animal Science. He has brought the knowledge he has learned back home and started to raise some pigs and cows. He also turned some parts of their rice field into big vegetable beds as they experienced the climate issue last year, not enough water to grow rice so he decided to bring in some types of vegetables that do not need lots of water to grow. He has planted chinese morning glory, white cabbages, beans, etc.
"I like agriculture. I like raising animals. We only have native cattle in our village. They are quite small and it doesn't make good money to sell. In the college, there are crossbred cows which are big and can be raised in the mountain. I want to bring in that type and breed them so the people in my community can see it's better to raise the bigger ones." Kunanon told us of the future plan he intends to do right after he graduates from the college that he wants to share the knowledge to all in his village.
These days, his family's fields are full of rice, vegetables, cattle, pigs, and chickens. And this is how our beloved King wants to see the less fortunate children lead their lives to their full potentials, get themselves into good jobs, set good samples for people around them, and being fully independent.

golden field full of rice grains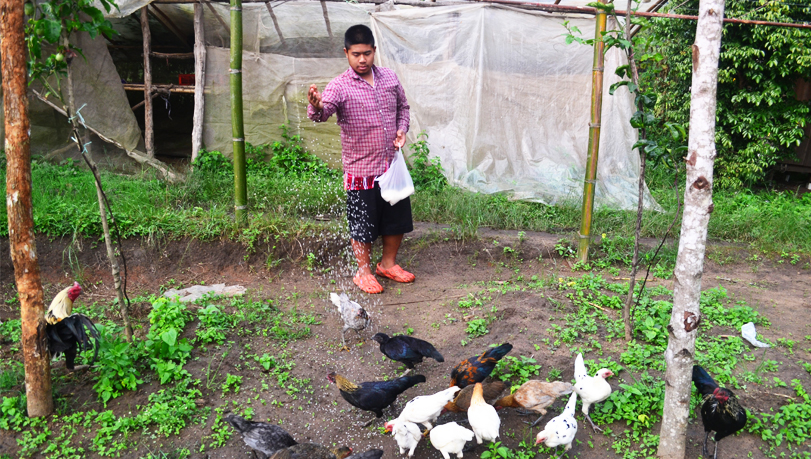 big henhouse full of chickens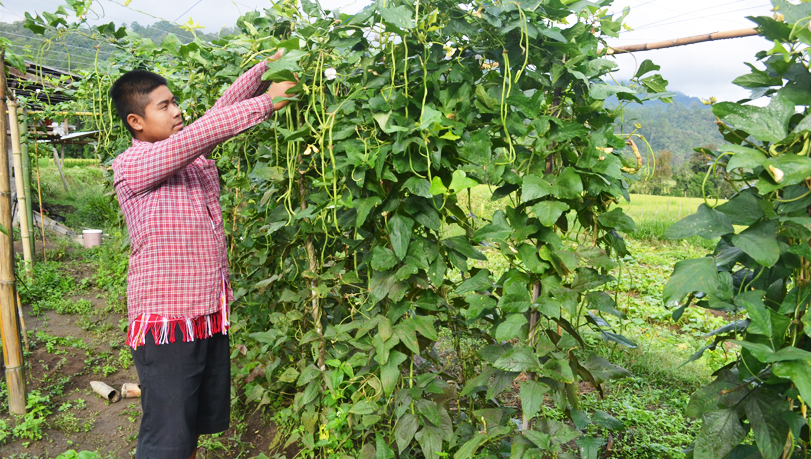 Impressive result gained; vegetable beds full of variety of vegetables. All by Kunanon, CCF's Chiang Mai Sufficiency Economy Youth Leader.
Adul saard
Chieng Mai Child Welfare
1 August 2016