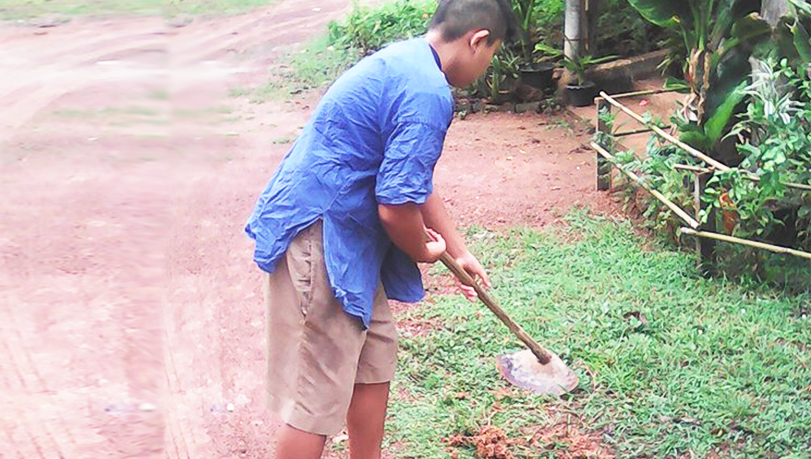 A 12-year-old "Joi" was born disabled and also has problem of cognitive developmental delay. His parents passed away with socially disgusted disease since he was very young. The boy unfortunately had been bullied from people in the community in many ways, even from his family and relatives. With his mental health problem, I can't help but wonder how he would feel or if he understands those nasty actions/words that others bombarded him. To me, this boy had been treated unfairly, by those unkind words or actions. It is like splashing black paint into a piece of white cloth. I don't want to think that he suffers from a loss of identity but he probably does.
There are 4 members in his family, living in Udon Thani; his older uncle is the only person who earns some wages, one uncle is physically disabled, and another uncle who is incapable of earning any income. They are extremely poor and find it difficult to support themselves on a day-to-day basis.
Joi moved to Udon Thani, now living in a temple with his relative who is a monk who he calls "Luang Ta" (Note: Luang Ta is the venerable grandfather, a term of respectful affection applied to a senior monk.)
Luang Ta said, "I felt sorry for Joi. His uncle struggled with supporting him for his income is very little so he took Joi to me as he knew Joi would be raised in a better environment. Joi is now here with me living in the temple. He has a good place to live and is well fed. He goes to school nearby. I gave him 20 Baht a day for his pocket money. I do my best to look after him. And we are blessed with kind people around; some temple goers are very kind, they donated essential items for Joi, like school uniform and shoes."
Since 2008, Joi has been included into CCF family. It does give me hope that this 'stained white cloth' will be washed, get fresh, then brightly added with colourful paint. Luang Ta takes parenting role well for giving him love and care, shelter, and molding him with the righteousness of Bhuddist teaching. However, the support from Luang Ta alone cannot complete a child's life, it takes great cooperation from all in our society to work together as a team so a young soul can find his sunshine and the meaning of living life.
Paniwat Seehatab
Udorn Children Development Center
8 September 2016